The Fading Architecture of Saigon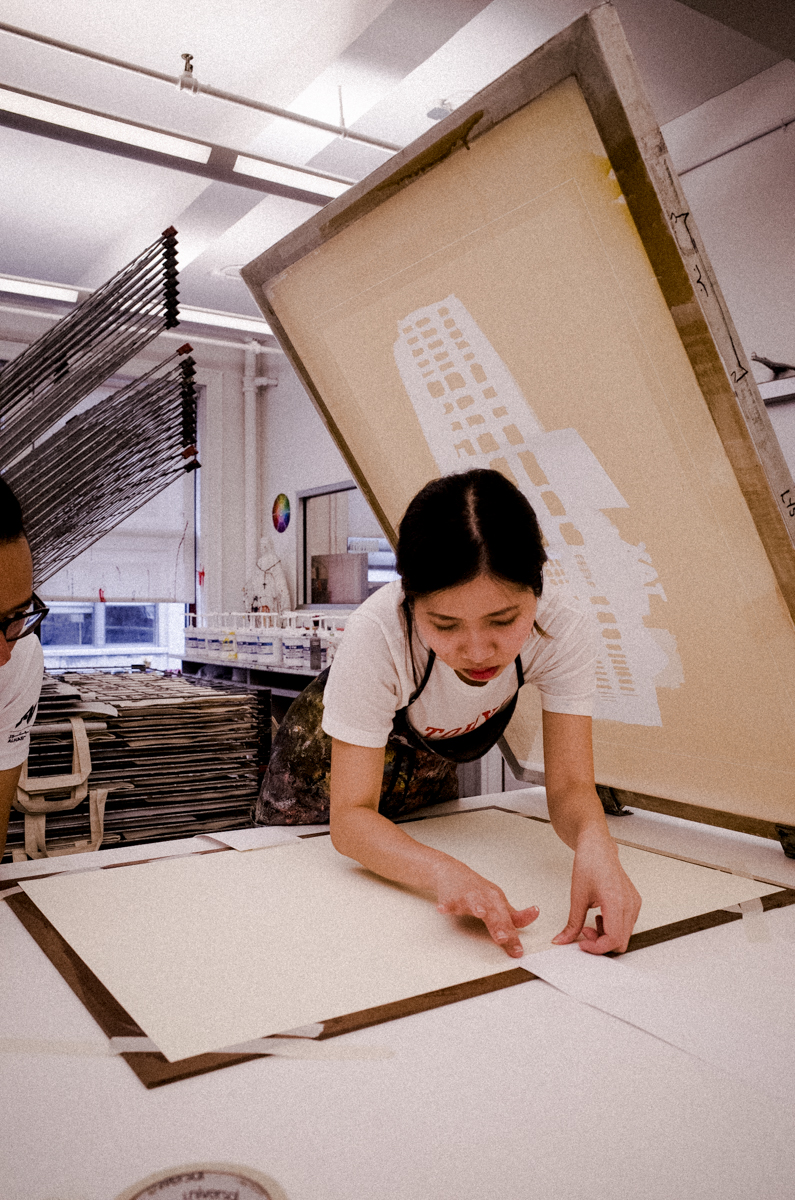 Illustrator / Screen Printer / Citi Bike Duathlete
"I used to go to this tiny bookstore called Xuân Thu Bookstore with my dad every Sunday at the Eden Mall when I was a little child in Saigon. I would read classic American novels like Alice in Wonderland and would pick up stationery whenever I had the chance," recalled Lys Bui, a New York City based illustrator. She later went to study abroad in Malaysia for several years and when she came back, Lys found the very mall she went to as a child was torn down and renovated into a modern shopping center.
There is a sense of comfort when you look at a building that's been standing since you can remember. Maybe it was the quaint house peeking over juniper and holly shrubs, or maybe it was the deli named after its owner or the neighborhood it quietly sits in. Buildings and its architecture are iconic as the city it resides in and can even define the city. We have the Art Deco movement which gave us the Chrysler Building, the Empire State Building, and the American Radiator Building (now known as the Bryant Park Hotel) in New York City, and the Art Nouveau movement of the early 20th century which gave us the mesmerizing Casa Batlló and Casa Milà in Barcelona, Spain.
The architecture of Saigon is known for its mix of traditional touches and French colonialism, but these landmarks have been slowly replaced due to the surge of real estate investment with modernistic facades and glass buildings. There have been grassroots movement through social media by Vietnamese residents trying to celebrate and preserve its architectural history, but have been treading carefully due to the government's strict dissident policies. But Lys Bui is preserving the vestige of what makes Saigon so special to her through the art of silkscreen printing in her New York studio.
"When I came to New York City, my friends were telling me that I should draw the Manhattan cityscape because the city was going through a similar phase [as Saigon] of old architecture being torn down. As pretty as those buildings were, I didn't feel any connection to the city and its history like I did with Saigon, so I decided to start a side project on the disappearing Saigon architecture instead." The project started out as sketches in her book but after coming to New York City Lys refocused her medium and turned to silkscreen printing. Since then, these prints have become a signature for Lys as she has done over 20 prints and has plans to continue this project as long as she can. "This project is not only about the improvement of my craft and skill, but also something about my culture that I want to preserve." For Lys, the future generation of Vietnam will have fewer chances to see the buildings that she found special to her and to her country. She wants to capture these buildings while they are still standing and hopefully these illustrations will be used as a reminder of her country's rich history.
France's first interaction with Vietnam dated back to the early 17th century when Jesuit missionaries arrived to spread their influence. China eventually handed over Vietnam to France after their loss in the Sino-French War in 1885. This opened the floodgate of French influence beyond religion. Saigon soon became one of the main port cities in Southeast Asia in the early 20th century, rivaling the British port of Singapore. This gave way to improvements in the city's infrastructure and soon French architecture cemented itself within the city, known as the Beaux-Arts style of architecture. "You see lots of high ceilings and marble floorings, which was actually beneficial to the hot and humid summers of Vietnam. The rooms were less stuffy and the stone flooring made it so that the heat would not get trapped," Lys commented on the French-Colonial inspired architecture of Saigon. Saigon is also known for its shophouses which are narrow storefronts crammed together in long terraces, which are also prevalent in countries such as Cambodia, Thailand, Malaysia, Singapore, and Indonesia. Once a common sight in these countries, lack of maintenance and short-term sights of modernization has reduced these buildings to rubble and replaced with modern facades. In Singapore a majority of these shophouses were razed in the1970's as the country embarked on a relentless development and modernization drive. The civilians felt they lost their identity and coincidentally tourism dipped. In 1995, the late Prime Minister Lee Kuan Yew solemnly acknowledged:
"We made our share of mistakes in Singapore. For example, in our rush to rebuild Singapore, we knocked down many old and quaint Singapore buildings. Then we realized that we were destroying a valuable part of our cultural heritage, that we were demolishing what tourists found attractive and unique in Singapore. "
I visited the print shop at the School of Visual Arts where Lys was preparing for her upcoming silkscreen project featuring the Saigon Tax Trade Center (also known as the Tax Building), which will be featured in the fifth annual Gathering and Celebration of The Association of Vietnamese Students and Professionals in the United States on August 19, 2017. Students shuffled around the print shop lifting and lowering screens, pulling down on the squeegee as the paint transferred from the silkscreen to pieces of paper and canvas bags, and putting their freshly pressed works on large metal racks to dry. Lys took over a large workshop table and pulled out her laptop to make some finishing touches on each layer of her digital illustration which will be screen printed onto 22" x 30" pieces of paper. She zipped around the shop while carrying large pieces of paper for test printing and final prints. She jumped onto an oversized paper trimmer to cut wedges of paper to help her align the paper and silkscreen when she prints. She then dashed to the paint station so she can get ready for her first layer of paint which was a light shade of yellow.
Lys explained that the prints of the Tax Building will have a unique 3D effect, a simple but tedious process which will consist of 5 layers of different color (yellow, blue, red, pink, and black) each filling out areas of the Tax Building. The finished work will be reminiscent of illustrations with anaglyph 3D effect, which is most recognizable by the red and cyan offset outlines and the additional 3D glasses that we'd get in cereal boxes.
Lys ended up finishing only two layers of color before the print shop had to close for the day, but even then I felt exhilarated as I saw her work slowly come together. The yellow was the base of the print which included the general facade of the Tax Building and the blue filled in the windows and blended together with the yellow on top of the poster creating a green billboard.
I've always been fascinated by the process, whether it was buying rolls of fabric and turning it into garments, exposing film and developing it in your bathroom, or visiting a print shop to see how silkscreens were made and then used to print. Lys has given me a unique chance to see how artworks are printed through a specific medium which has been popularized by artists such as Andy Warhol. With a combination of technology and labor, Lys created something special that I hope will be an earmark of the beauty of her home country. Vietnam's unique history of dynastic rule then French influence has given the country a signature look of the capital city, a look just as unique as the Manhattan skyline. My week-long research on learning about Southeast Asian architecture has given me newfound appreciation to the nuances of the cultures around the world and I hope learning about Lys' work on the disappearing Saigon architecture will help to expose the beauty of Vietnam.